Everything you need to know about fishing while on a sailing vacation
Fishing is a rewarding activity and a great way to spend all that free time in the vast blue ocean when on a sailing vacation, especially if someone else is doing the sailing for you. It also gives you the chance to gather long tales of big fights and the ones that got away, as well as the opportunity to catch fresh fish for dinner.
Fishing is almost a rite of passage for kids. Not only is it heaps of fun and a great way to spend quality time together, it helps them learn about the circle of life and how that relates to the food we eat.
Now, we'd be lying if we said fishing with your kids will be as easy as it is when you go by yourself. The reality is you'll probably spend most of your time helping them cast, baiting hooks and untangling line. But fishing with your kids or grandchildren can be incredibly rewarding, and just as much fun as fishing alone or with your mates.
While we are not claiming to be fishing professionals, we can help with the basics. There are three different ways in which you can fish off a yacht. You can trawl during island crossings in deep water to catch big game fish, spin for smaller, but still edible, game fish from the tender or stand up paddleboard (SUP), or simply throw a line off the side of the boat, while at anchor, for a bit of fun.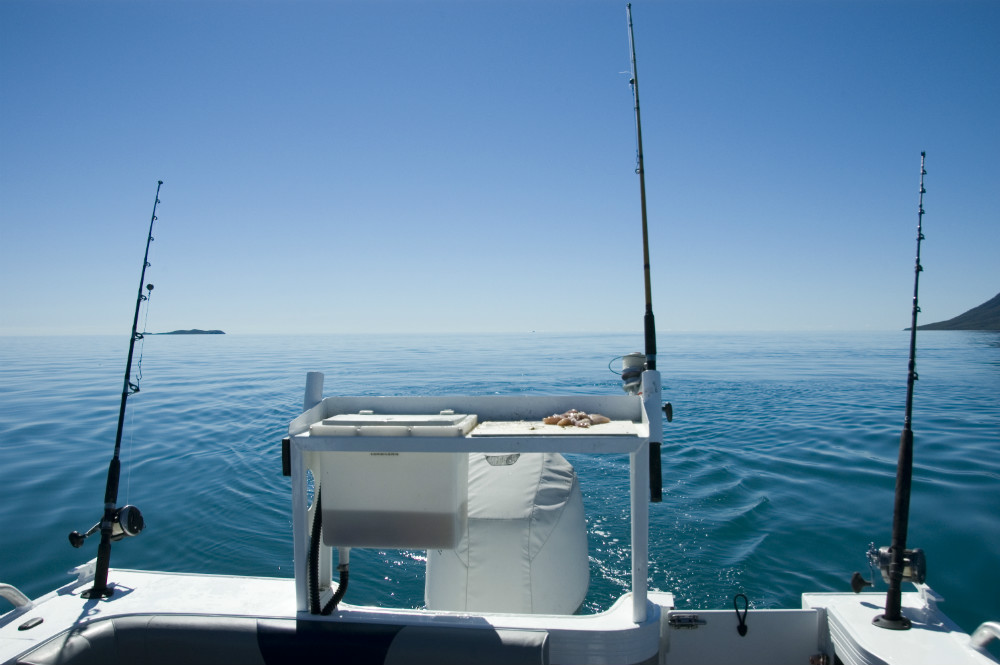 1. How to trawl for big game fish
The gear: You will need a short, strong boat rod and a fairly big reel for trawling. The reel should be wound with a strong line or braid in case you hook a monster fish (well, we've all got to dream, right?). Tied to the line, you need a tough leader that will resist sharp teeth, some swivels and crimps for attaching the lures and leader to your line and some strong pliers to work with.
Choose some good looking lures and squiddies to tie on to the end of your line. There is a vast array of options out there but don't be disillusioned, just pick a few that look like fast swimming sardine-sized edible fish. Choose some that are deep divers with a transparent plastic wedge at the nose and some that will swim closer to the surface. Make sure your fishing box has a good knife, some thick gloves, a bucket, a gaff and a short piece of thin rope to secure your rod to the boat.
The basics: Once you have boarded your chartered yacht and are sailing along at a steady clip, it is time to put your line in the water. Choose your flashiest lure, crimp a swivel to your leader and crimp your lure to the swivel. Once you are ready to let your line out the back of the boat, remember to tie your rod to the boat, using the short piece of thin rope you brought along with you, and then let your line out.
You want your lure to swim along behind the boat just beyond the effect of your wake. This is usually about four boat lengths when traveling between 2-4 knots, which is the perfect speed for trawling. The boat's wake causes a disturbance in the water and ever on the prowl for food, pelagic fish, which is what you are after, will come up for a look, spot your lure and go for it. Make sure to put your ratchet on so you can hear the rod go if you get a bite.
Diving seabirds are good indicators of fish near the surface. Birds generally mean that predators are driving small fish upwards and feeding on them and if you can sail towards or through the diving birds, one of the pelagics may well go for your lure. Always follow the birds if you can.
The bite: Sometimes you can sit at the back of the boat holding your rod for hours on end and not get a single bite. But you may get lucky and the rod will give a loud scream as a fish tries to make off with your lure. If you do get a bite, the first thing to do is to strike and then increase the drag on the reel to make it harder for the fish to swim down. You don't want to stop the line going out completely, as a strong fish will snap it, but you want to increase the drag to tire it out so that it is easier to bring in.
This is what brings fishermen back to the ocean time and again. The play of reeling in the fish as it tires and then fighting to hold it as it turns in a last desperate attempt to dive for the bottom, taking all your line with it. This is the fight.
When you hear the line go, slow down the boat as much as possible by furling the headsail or bearing away to give you the opportunity to bring in your fish. The hardest part is bringing it up to the surface and the standard tactic of pulling the tip of the rod up and leaning back and then winding with all your might as you let it down, is a good one. Hopefully, before you know it, the fish will be next to the boat and a fellow sailor can gaff it for you and bring it on board to be gutted and filleted for dinner.
2. Spinning for smaller game fish
The gear: Spinning is fun. You need a slightly longer, thinner, more flexible rod and smaller reel for spinning, which is essentially casting and reeling in repeatedly while drifting or at anchor. Your line will be lighter, lures smaller, and poppers, which skim along the surface as you wind in, are great. You still need everything you need for trawling, just downsized, as you are going for smaller fish.
The basics: When you have anchored for the evening in the lee of an island in the middle of nowhere and all you can see is blue and green edged in white, it is the right time to spin. You can spin right off the yacht, as it will have attracted some attention from the fish below. Or you can launch the tender or SUP and head for the nearest point. Fish congregate at changes in depth or topography. A point is always good. A lone rock standing up out of the sea is a natural place to meet if you are fish and casting a line should yield something.
The bite: If you do get a bite, it will be a fun, quick fight before you have a little swimmer next to you. If you are fishing on reef it could be a reef fish, especially if you have been allowing your lure or squid to drop to the bottom before reeling in. Reef fish are not good to eat as they may contain ciguatera poisoning from the algae on the reef, so simply let it go. This is where the pliers and gloves come in handy as getting the hook out a wet, wriggling fish is best done with tools. Of course you may well catch a nice jack or jobfish, which are great eating gutted and done whole on the barbeque.
3. Hand lining, bottom fishing and jigging
The gear: A hand line is a big plastic reel with very thick line would round it to which you attach a sinker, a swivel and a hook. For bait, you can use pretty much anything you have on hand from a squiddie, to a fish head, slivers of leftover sashimi or a piece of bread.
The basics: Most sailors grew up using hand lines off the back of the boat and they really are just as effective as a rod, though more difficult to reel in and a hazard to your digits, as you physically have to wind the line around the reel. They are best for catching small fish, for fun, while at anchor.
If you have children on board, a hand line is easy for them to manage and they will have loads of fun catching whatever is feeding off your scraps below. Let the line down until it hits the bottom, then lift it up and down a few times (this is what is known as jigging), wind in and start again.
The bite: Shrieks of joy will attract your attention to this and if you have been clever and closed the barbs of the hooks with your handy pliers, you will be able to let the fish go quite easily.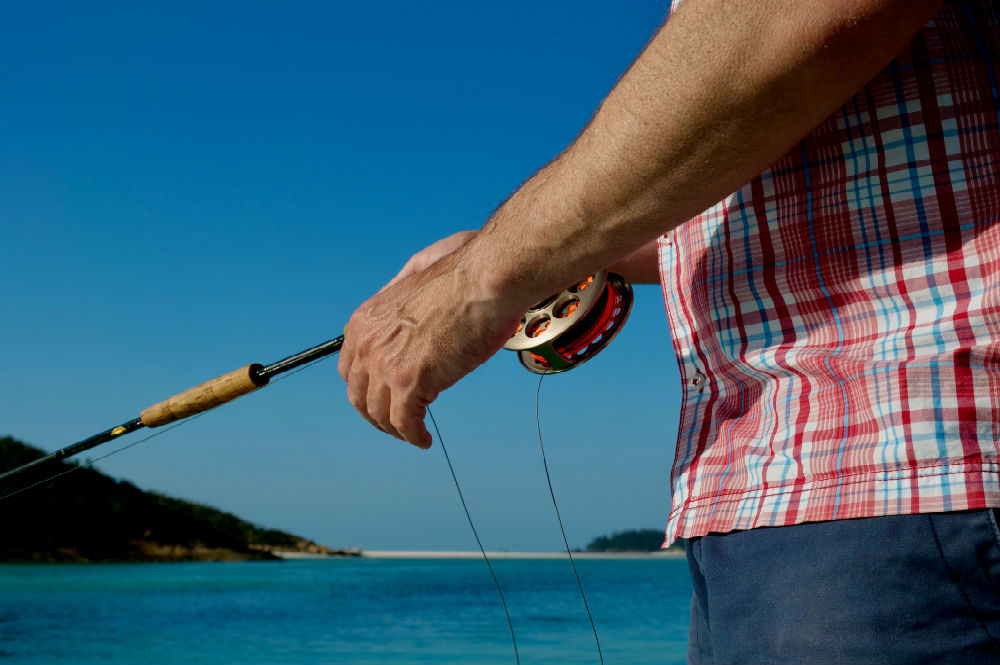 Whitsundays Fishing
Fishing options abound and include everything from game fishing for marlin mackerel and tuna, reef fishing coastal formation fishing, flats and estuary.
The best game fishing occurs along the outer edge of the outer islands. We've caught marlin from a sixteen foot tinny only 100 meters from shore so long range trolling excursions are not always necessary. Bluefin and mackerel tuna abound nearly all year round and are easily located by looking for the sea birds working the surface over the tuna and casting or trolling around the headlands or in the passages between the islands. Mackerel are more solitary and are best taken trolling with baits or larger lures in the same areas as the tuna. Giant trevally is common in the warmer months and are very structure orientated. Casting poppers around the headlands and bombies is a great way to locate them. Queenfish are more common through the cooler months and are found working bait fish in giant surface slashing strikes in the open water in close proximity to the islands. If they cant be located visually try trolling lures around the island perimeters. A couple of hot spots for game fish include the waters around Hayman and off the southern end of Whitsunday island.
Reef fishing will provide top quality tucker in the form of Sweetlip Spangled Emperor, Coral trout and cod just to name a few. The fringing reef in close to the islands provides great fishing. You can clearly see where the reef drops onto the sand and this is the ideal spot to fish. Be carefull not to anchor on the reef itself as your anchor can do a lot of damage. There's plenty of reef out wider in the deeper water but to locate and fish these successfully you will need a chart and a depth sounder. The effort to do this will be rewarded.
Alternatively good reef fish can be taken by fishing the pressure front where the current hits a bombie or headland. There's some awesome sandflats fishing around the mouth of Hill inlet on Whitsunday island. This spot is a mecca for lure or fly fishermen who are interested in doing some sight fishing. Species encountered include queenies, whiting, and a variety of trevally including Golderns.
There's some excellent estuary fishing in Hill, Gulnare, Macona and Nara inlets Hill inlet is particularly good for delicious Estuary cod but nearly all estuary species are present including Barra. You must pay careful attention to tides in Hill inlet as a very low tide will leave you stranded in side.
Back closer to the main land Shute harbour offers very good fishing for estuary and bluewater species around the three closest islands. Pioneer rocks. Further north also has some very good fishing for pelagics.
Come and find more inspiration about sailing over on our blog. For more information on bareboat or a guided charter or other sailing vacations, get in touch with our team.
For another great Whitsundays Fishing Story, click on the link to read Craig McGill's article "Fishing the Whitsundays" published on his Website Fishabout Sydney