What is the most perfect family holiday?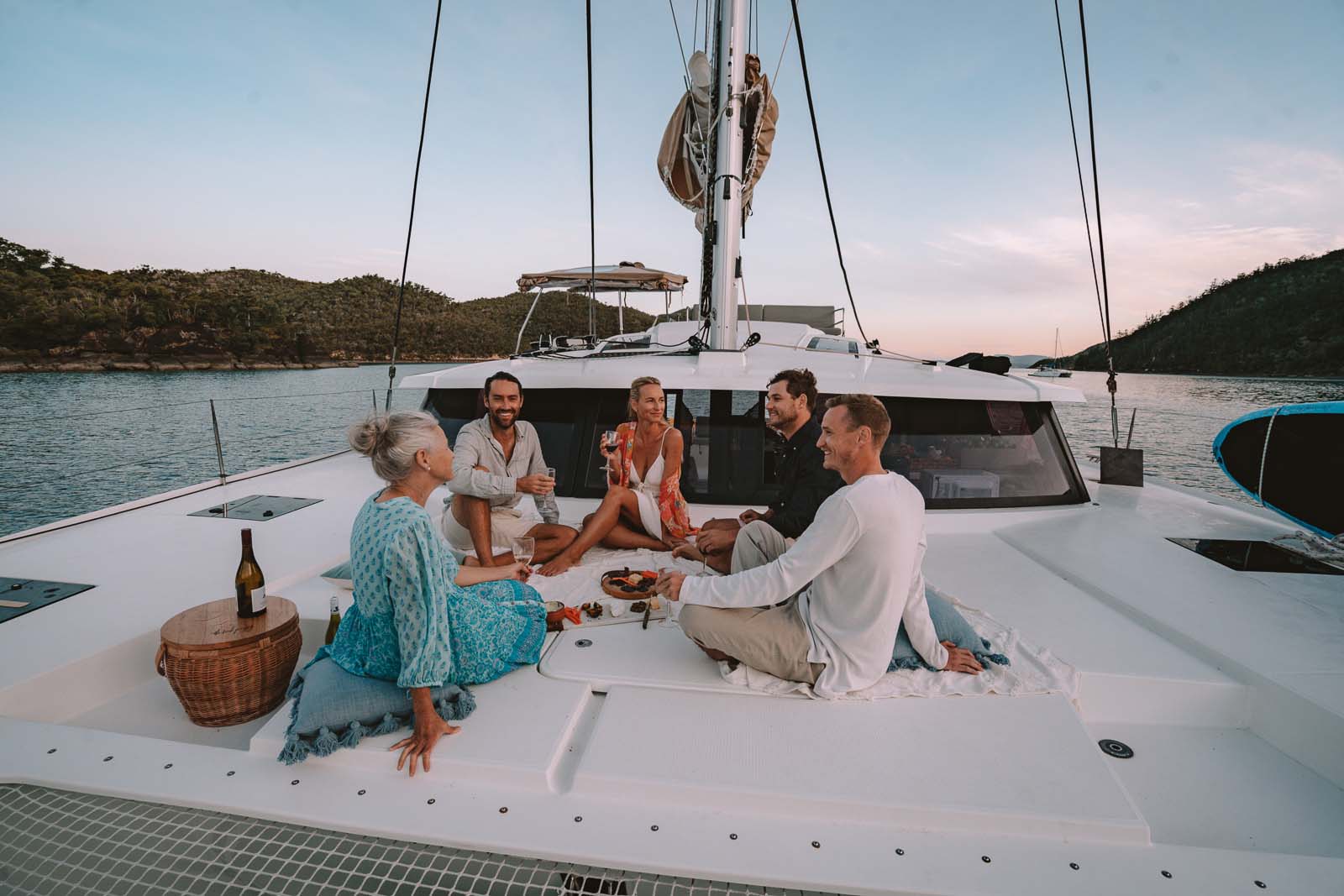 The Whitsunday Islands lie between the northeast coast of Queensland Australia and the Great Barrier Reef. In this Travel Guide we share how we sailed ourselves around this stunning archipelago in a luxury catamaran. We've visited here many times and think this is the best way to see this beautiful & untouched part of the world!
There are 74 islands in the Whitsundays and all but a handful of these are uninhabited. You can expect to see an abundance of marine life, coral reefs, secluded bays, turquoise waters and white sand beaches, including the world famous Whitehaven Beach.
There's so much to see and the only way to explore every corner of the Whitsundays is by boat. In order to avoid the tour boat crowds and explore the region on our time, we decided to charter a luxury catamaran. Chesh and I have sailed here a few years ago but this time we wanted to bring our family to share in the magic of sailing The Whitsundays.
How To Get To The Whitsundays
You can reach The Whitsundays via flights into Proserpine Airport, which will have you landing around 20min drive from the town of Airlie Beach, the region's central hub. It's from Airlie Beach that you can stay on the mainland and access the Whitsundays (and Great Barrier Reef) through tours. This is also where you will generally embark on your sailing charter.
How To Sail The Whitsundays
There are plenty of charter companies but we decided to sail once again with Queensland Yacht Charters. This is our fourth time sailing with this company (we've sailed in The Bahamas, French Polynesia and Whitsundays) and the team made us feel so comfortable to head off by ourselves with such a luxurious catamaran.
Sailing your own private vessel is known as 'bareboating' and does require some level of experience in sailing and/or power boats for a charter company to let you sail yourself – for obvious reasons. For our first time bareboating we provided a history of experience in boating (Chesh had done a little sailing and owned a power boat most of his life) and this was followed by a short practical session at the marina with an experienced member of the charter company. Once the team (and us) were comfortable, we were handed the wheel and headed to sea!
Best Time To Visit The Whitsundays
The Whitsundays region is sub-tropical, meaning there's humid summers and warm winters. The summer months have warmer temperatures (with highs of around 30 degrees C) as well as higher humidity and rainfall. The winter months are still pleasantly warm (highs in the low 20s) and are much drier.
Personally, we prefer visiting the Whitsundays in the shoulder months of June and September. Generally the days are warm, the nights are cool and there are less showers to contend with while sailing the beautiful outdoors.
Highlights of Sailing The Whitsundays
Whitehaven Beach
No trip to the Whitsundays is complete without a visit to the world famous Whitehaven Beach. Recently voted Australia's best beach, and one of the best in the world, Whitehaven Beach is a 7km long pristine white sand beach with calm lapping turquoise waters. It has some of the whitest sand in the world and – especially when bareboating – you can generally find a stretch of beach to have all to yourself. This still blows my mind. We dropped anchor here a few times for breakfast or lunch and went ashore in our dinghy to enjoy the beauty of this untouched beach as a family.
Hill Inlet
Hill Inlet is like nothing else I've seen in the world. The inlet is found at the northern end of Whitehaven Beach and is a breathtaking landscape of blue and white hues that constantly changes with the tides and shifting white sands. Best seen from above, you can take the short hike to the lookout to take in the expansive views of this natural wonder.
We anchored our catamaran in front of the inlet (not an overnight spot though) and took the dingy ashore with the family to little scheduled beaches and the beautiful sand bars of the inlet. This day was a trip highlight for everyone. And there's great mooring for your vessel literally around the corner at Tongue Bay, which also gives access to Hill Inlet so that you can maximise your time on these white sands.
Mantaray Bay
Another trip highlight for the family, Manataray Bay is at the northern end of Hook Island and is a tiny little bay with limited moorings. We jagged a spot here one morning and stayed for hours, visiting the little beach coves and swimming with an abundance of fish. One such fish resident here is a massive Maori Wrasse that curiously circled us as we snorkelled with schools of vibrant fish.
Nara Inlet
Nara Inlet is a staple visit for most bareboating itineraries. It is generally an all-weather place to anchor that's most accessible to Airlie Beach, and also has a cave with indigenous artworks. We spent our last night here and had not even a drop of wind. We even had a pod of dolphins feeding around our boat for a full hour after dinner!
Hamilton Island
Hamilton Island is a great spot to stop if you need supplies, want to pick up some guests, or if you want a break from time at sea. You can reserve a berth in the marina for a few hours or overnight. We stopped in here quickly to grab some of our family that arrived later in the trip via Hamilton Island airport, and we also topped up our water here.
Hamilton Island is a trip all on it's own, with restaurants, hikes, activities and plenty of accomodation. We visited here after we finished our charter to mix up the travel experience, though most of the family weren't ready to leave our catamaran.
Sailing the Whitsundays With Our Family
Having sailed catamarans a few times now, Chesh and I really wanted to share the experience with our family. We sailed for 5 days / 4 nights and everyone LOVED it. It was so amazing waking with the sun each morning, the whole family scattered around the boat with their coffees as we pulled up the anchor to embark on another full day in nature. Without the hassle of packing bags and transiting, we had so much more time together while still seeing new places every day.
For my adventurous brothers there were plenty of hikes, fishing and stand-up paddleboarding. For my parents, the boat was so comfortable to relax. Everyone enjoyed snorkelling, meals around the table and sunset drinks on the front of the boat. There were plenty of naps in the sun while sailing between the islands and everyone was able to help us navigate the catamaran around the Whitsundays. It was really our best family holiday ever.
What To Pack for Sailing The Whitsundays
Sunscreen (reef friendly)
Maybe a light waterproof jacket if there's any rain while sailing
Walking shoes for the hikes
Reusable drink bottles
Swimmers
Snorkelling gear
Stingose gel (for bug bites or jelly stings)
Vinegar (for stingers, usually provided in First Aid kits)
Camera gear, especially underwater equipment (inc GoPros) for the Great Barrier Reef
Warmer clothes for at night on the deck or when sailing with winds
Stinger suit or light wetsuit for stinger protection and to stay warm in the water in the cooler months
Beach towels (check if your charter can include these for you)
Cards or games (there's no Netflix after dark!)
Music playlists (downloaded to your phone since there's not much reception anywhere)
Food and drink supplies for the entire time, especially drinking water
Tips for Sailing The Whitsundays
To charter a catamaran yourself, you will need to provide evidence of experience. Chesh has his boat licence and experience operating power boats, and had skippered catamarans similar to this before. This was enough history to give confidence to the charter company and to ourselves to handle a luxury catamaran.
Ideally it's better to have a group onboard when chartering to help with mooring and anchoring, but we have also managed fine just the two of us! The boats on offer are generally easy to handle and are very modern.
We'd suggest stocking up with food, drinks and water for your entire trip. There's Hamilton Island where you can restock on everything (fuel, water, food and drinks) but it will take up a large part of a day getting there and back to your next stop. We didn't want to be limited in our itinerary by making these stops.
You almost certainly won't run out of fuel but water is limited by your tank onboard and we definitely needed to ration it for our family of 7 for the 5 days at sea. Very quick showers, careful washing up, and plenty of extra boxes for drinking water are our suggestions to make it last!
Before you set sail you will undergo a thorough briefing. Make sure to take good notes throughout the technical boat briefing and the sailing briefing (which includes upcoming weather, need to know info on all the islands & safety) as once you are at sea there's basically no reception.
Do some research about where you want to visit, sailing durations and weather forecast so you can plan ahead of time and enjoy the time aboard. The wind forecast (strength and direction) will play a big part in choosing your nighttime moorings and hence your itinerary.
Consider adding a few extra days to your itinerary. It's great not to be rushed if you love a certain place. You can do it all in 4 or 5 nights, but we wish we had a little longer!