Charter Comments From Our Sailors
Thanks to the whole team.
We had another amazing stay sailing the Whitsunday's
Thankyou also for the upgrade to FlyAway we loved sailing her
Have already had some other friends ask if we could take them sailing.
Would always use Queensland Yacht carters
There might be a 4th trip yet
Thanks So much
We had such an amazing time and can't wait to come back and do it again! Our experience with the crew and the boat itself was great. I appreciated our thorough briefing from Frank the morning we set sail, as he offered plenty of advice about the best spots to anchor, rather than just sticking to a regulatory checklist. Overall a seamless experience.
Can I start by saying how wonderful and helpful your team were this year in such challenging times. We booked twelve months ago and the week before we were due to leave from Brisbane we were in lockdown there. The announcement came on the Sunday that we out of lockdown and I called your office. I was surprised that Lynne (O) who answered the phone knew all of the latest Queensland Government rulings that had only just been announced and we were free to travel. She was more informative than the latest online news.
Whilst this was our second charter, we are always struck by the beauty of the Whitsundays and the colour of the water.
Eager to get away the following day after our overnight sleep aboard, the briefing and instructions were just as, if not more comprehensive than the previous year. A point worth noting for any families with limited or no boating or sailing experience. Your team will spend the extra time explaining everything required until both you and they are comfortable that you are capable of handling the vessel. It's worth noting for beginners, there is good mobile coverage when the mainland is visible and a quick phone call can put your mind at ease before you head too far off on your adventures.
We had an amazing time with life long memories made in such a beautiful part of the world that is just astounding. The highlight this year, was being joined by not one, but 4 Hump Head Maori Wrasse (affectionately know to scuba divers as "Wally") under the boat in Manta Ray Bay. We snorkelled with them for hours and are the envy of many of our diving friends. We dived the outer GBR off Cairns for 4 days in January and the coral and reef in protected areas of the Whitsundays is just as good. We followed the guide on board out boat in the form of "100 Magic Miles of the Whitsundays" book and it proved a valuable tool in locating the best spots to snorkel and even included Wally's location. We swam with hundreds of fish, several turtles and got up close and personal with several giant Bat Fish.
Thanks again for making our dreams come true.
Amazing experience sailing the Whitsundays! Very helpful team and hopefully look forward to more adventures in far off destinations!
It has been an absolutely amazing time so far, and thanks to a bit of rain each day my job of cleaning the decks has been super easy
Yo ho ho! From landlubbers to skilled seadogs; what a journey that was! Thanks to our crew @summer2606 @lmaso90 and @carlymay18 for sharing the adventure with us and to @queenslandyachtcharters for helping us tick off a bucket list item. We'll be back!
Here's a few things we learnt during our week at sea;
⚓️ Sea water is 100% a suitable substitute to cook your pasta in when your water levels are at an all time low
⚓️ Tell Jeffery to chill the god damn mimosas
⚓️ Batten down the hatches
⚓️ Hold on to your akubra
⚓️ What's in the past is in the past; don't look back when you drop the tanks ?
⚓️ Always check your tide chart…before anchoring
⚓️ Wash your hired snorkel gear before using to avoid catching the herpes
⚓️ The captain isn't a real captain unless he has a captain's hat ??‍✈️
⚓️ Tune into the scheds every morning with some tea and sit back and have yourself a good giggle at other people's misfortunes
⚓️Salt water baths are just as good as freshwater
⚓️Make sure the ginger has sunscreen on, if she says she does, apply more anyway.
⚓️ Snorkel masks work well when you're navigating a 36 ft cat through torrential rain ?
⚓️Never assume the neighbouring vessel understands what dragging anchor means
⚓️Mooring > anchorage
⚓️It's a boat plane, not a seaplane
⚓️Dropping your mainsail in 28 knots of wind and 2 metre swells…no regrets
⚓️Mind the step
⚓️Drop a line to top up your diminishing food supplies ?
⚓️It takes half an hour and roughly a quarter a tank of fuel to retrieve a man overboard water bottle
⚓️The charter company will not fully appreciate your pirate accent when you check in for the day ?‍☠️
⚓️Don't let a little rain ruin your sunshine ?
Honeymoon ?7 nights bareboating around the Whitsundays. Great adventure on a 44ft power vessel. Queensland Yacht Charters.
Bareboating in the Whitsundays with Queensland Yacht Charters is absolutely unreal and honestly the best way to see the Whitsunday's
Another day in Paradise. We dropped anchor in Tongue Bay and walked through the island to Hill Inlet. It is spectacular! We then went for a short sail to White Haven Beach where we spent the night. Never want this trip to end Thank you Queensland Yacht Charters
My face says it all. This day was beyond amazing!! It was our very first day at sea, sailing ourselves through The Whitsunday Islands
The previous day we'd spent hours learning the ropes (pun intended ) with a pro to make sure we were up for the challenge. Turns out we picked everything up quickly & worked really well as a team to drop anchor & navigate etc ~ the experience was EPIC & I so recommend it! We can't wait to do this again with our friends.
Chartering a Yacht in the Whitsundays is easier than you think, grab your partner and get onboard ?⛵??????☀️
Chartering your own yacht gives you:

Freedom to explore on your own terms and travel at your own unique pace
Complete privacy out on the open water
Options – fishing, snorkelling, swimming and diving are all on offer
Adventure – Explore the islands at your own pace with your yacht serving as your home base. Hike, bushwalk or have a romantic picnic on the beach!
The opportunity to bond with your loved ones. There's nothing like teamwork, the magic of the ocean and the wonders of nature to bring you together.
Get closer to nature. From dolphins to rays to sea turtles and so much more, you'd better get your camera ready!
Read Sarah's Story here
We have not long returned from an amazing week in the beautiful tropics of the Whitsundays. The place is truly paradise and as beautiful as all the brochures show. We had glorious weather considering it was winter. The highlights of our trip would be the many whales sighted and as avid divers, the chance to swim with manta rays was a bonus. We couldn't recommend the experience highly enough. We were only home 10 days before booking another week for next year." Warm regards, Jeff
"Firstly many thanks indeed for being so helpful and supportive in organising this years trip on La Diva. 
I think that was our 6th charter with you since 1989 and it is so nice to still have such great service even though you are now part of a multinational body. 
We will link some picture to social marketing etc but I did want to particularly thank Brad for his help on sorting a few things out on the run during our mid charter turn around and faith in us as a crew, in letting out sailing way after the 3.45 curfew – and genuine  interest and concern in fixing the small faults/ issues that we identified at our debrief. 
In addition Lily was very helpful with our slightly convoluted crew changes and travel arrangements.  
We are having a crew post holiday dinner this weekend and will select a few key photos and share them with you – and all things considered will most likely look to charter La Diva for 8/9 nights same time next year – do you think she will still be with you?".
We had a great trip as always. Here are a few pics…there were plenty!
And here is our favourite – we had pirate day ?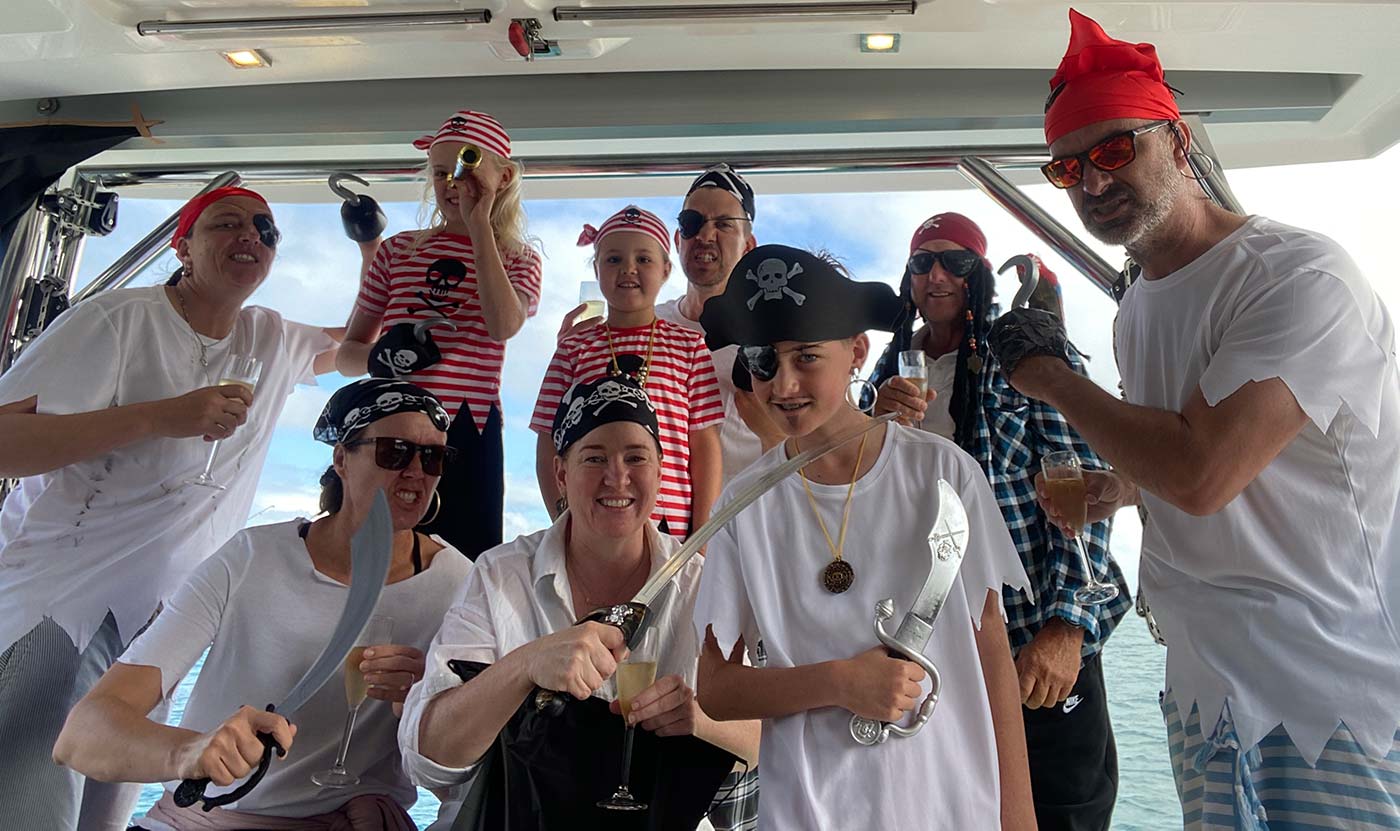 "We arrived home last week from our holiday in Europe and I think we all agree that the highlight was our week sailing in Greece.  The Ionian Islands were beautiful and we were blessed with perfect weather and a gorgeous relaxing week.  Our catamaran was fantastic and very comfortable and our skipper, Yanis, was fabulous and looked after us very well.  We all have wonderful memories of the week and all agree that it is something we would definitely recommend to others and hopefully we can revisit this special part of the world sometime in the future.
Thank you for your help with organising our holiday ….. It was simply perfect."
"To all the team at Queensland Yacht Charters,
Thank you for the wonderful service leading up to and during our charter trip last week.  We had a wonderful time celebrating three birthdays.  A special mention to Bruce who was fantastic and showed a genuine interest in discussing sailing with my son who is addicted to sailing. 
We will highly recommend you"
"This was my first bareboat charter, and I couldn't have chosen a better company for my debut as a skipper. Throughout the process, QYC's staff was very professional and friendly. I had to change boats because of crew numbers. The quote and paperwork were re-done immediately. Because of the low season (August) we got a very good deal on the Dufour 412 Miss B, and proceeded to have great time for the entire 10 days on board. We had a "sleep-over" on board before the first charter day. The boat was immaculate. Whatever large luggage pieces we couldn't store, the staff took for safekeeping in the office. The next morning, part of my crew went for a Reef snorkelling adventure, while my first mate and I had a briefing done by Richard. We looked into every nook and tried most devices on board. A discussion of possible sailing routes was followed by a short sail in Pioneer Bay, both for Richard to see what we can do with a boat, and for us to get a feel of the handling. Miss B is a perfect boat for 6 people. Every device works; the engine hummed along throughout (it is surprisingly economical in terms of fuel consumption); the anchor winch was ok (we did a lot of anchoring), sails and lines are in great condition. The battery was discharging too quickly, but we compensated by turning the fridge off overnight, and running the engine for 1/2 hour in the morning (beer kept cold nevertheless). QYC will look into this after our charter. Since this is a smaller boat, or because we had long-haired ladies on board, we had to go to Hamilton Island for a water refill. It was during Race Week, which is why we couldn't get an overnight dock. The Marina office was nevertheless very courteous and allowed us to stay at the Fuel dock until we got food, water, and other marine necessities (wine). We also got to see the great racing yachts, and evade landing planes. Our trip took us around the islands, and every stop was at another picture-perfect anchorage. Whales, fish, birds, boats, hikes, sunsets, sunrises – it is all documented, least friends don't believe how good it all was. QYC has the rule of twice-daily calls to make sure that the boats are in safe place. This was especially helpful when, for 24 hours, the winds increased to >25kn. All charters must come to an end, and we were thrilled to get home – only because of the hot showers with unlimited water. We were met at the marina by the QYC manager ( I am so sorry for not getting his name!). He helped us dock, and we went to Sorento for a last real beer as crew – the last bottle on board was split 4-ways. My thanks to Lynne Robinson, Lynne Osborne, Megan Whitta, Sara Elies, Kristy Eardley, Richard, and the Manager (sorry, again) for their help with what could have been the most nerve-wracking charter, being my first, but instead, was pure pleasure from start to end."
"I want to say all staff we dealt with were amazing.  I can't recall how many times I called before our charter asking questions and always got great information, and it never felt like I was a burden, even though I am sure I was asking some pretty stupid questions.  From our briefer who was awesome to the ops team and even when we got in a day early and got out car organised for us on a Sunday, it shows you have a great team.  Looking forward to our next adventure, hopefully not in 20 to 25 knot winds LOL."
We had a Gilligan's Island theme to our holiday on Kiwi 2 Beneteau Oceanis 56
"The boat and your team were wonderful in organising such an amazing holiday.
The trip was a surprise for my husband's 35th birthday and we both were blown away by your teams professionalism and enthusiasm which started our incredible holiday off in the right way.
Please pass our thanks to all involved and I hope we will be speaking with you in the near future for another sailing trip."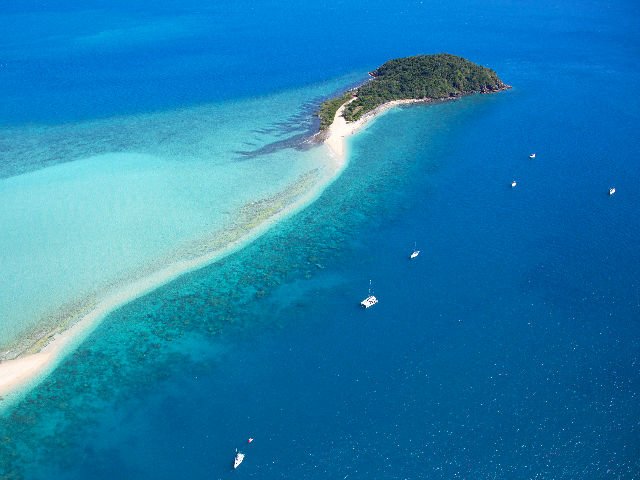 "I would like to thank Queensland Yacht Charters for the charter of 'Seachange'.  From first enquiry to end of charter, all the employees we dealt with were very comforting and thorough in there work.  We all had a great and memorable time and will definitely book with you again.
Once again, thanks very much and when I get some time I will post some pics of our charter."
"We had a bloody awesome time on our 'Lunasea' and it did not take long for us (well some of us) to miss it.  When I tell people that it rained everyday and we had 20 – 25 knot winds everyday as well they are surprised at how wicked a time we had.  It was not too hot for us southerners, we didn't get fried by the sun and 25 knot winds were perfect for full sails.  You were right, a week was spot on, no rush and plenty of time to get around although we only got 9 knots out of it in a 30 knot gust, maybe we will look at bigger sails next time.  Thank you for making our holiday easy to organise and giving us the opportunity to see your lovely part of the world."
"We had an absolute blast, truly and yes, the memories are forever there!  I am strongly thinking about this again and so will keep you in mind if I can conjure up some more people to accompany us.  Glad you found the boat in order, she became part of the family of course – a real beauty!  Strongly positive view of QYC – always available for advice and easy and pragmatic to work with."
"Thank you to all the team for your professionalism, everything went really well and we had a wonderful time.  I won't hesitate to rent again with Dream Yacht Charter next time."
"We had a wonderful holiday and will be back for sure!  Megan was an absolute treasure and everyone we dealt with at QYC was very professional.  Many thanks again."
"This trip was the most memorable in our 2 months journey.
Your professionalism, customer service and kind voices on the phone or in person were outstanding.
I will for sure recommend you and I will be back.
Many thanks."
"We had a wonderful experience of bareboat chartering in the Whitsunday Islands with QYC. From the moment we made our first enquiries, we felt this was a friendly company who would provide us an experience of a lifetime and we had an absolutely delightful August holiday. We did not come across any stinger jellyfish and temperatures/wind conditions were very pleasant. Planning a trip with a company on the other side of the world was daunting but the staff at QYC were fantastically helpful, knowledgeable, offering advice and suggestions. They also organised our transfer from Proserpine airport. The boat and area briefing was really informative and guided us to some amazing hideaways and treats such as Fat Albert the huge Maori wrasse. Our boat and dingy were very well maintained making the holiday trouble free. We used Whitsunday Provisioning and were impressed with the food and the communication between themselves and QYC. When we decided to stop off at Hamilton Island rather than return to Able Point, QYC organised our re-provisioning automatically and we hadn't even given it a thought! QYC encouraged us to take the seaplane trip out to the Great Barrier Reef with Air Whitsunday. We were picked up from our yacht at Whitehaven Beach. It was a truly awe-inspiring experience. We enjoyed the reassuring exchanges during QYC's daily schedules on the VHF radio and meant we felt we were never far from help and support, picking anchorages for a quiet night's sleep and idyllic spots for lunch. If you are looking for a Robinson Crusoe adventure away from the rat race in an area of outstanding beauty with humpback whales, turtles and breath-taking coral reef then we highly recommend it!"
"Queensland Yacht Charters (QYC) generously provides an annual prize to be awarded to a lucky sailor at our yacht club, in Canberra. Last year I was very fortunate to have won that prize. As a consequence, my wife and I, and two friends, sailed the Whitsunday Islands for 8 nights in mid-April 2013, in 10 – 15 knot winds, at an average temperature of around 29 degrees. The yacht was immaculately clean and seemed to be brand new. We snorkelled, swam with turtles, saw porpoises at play, fished, barbequed reef fish, cocktailed, watched magnificent sunrises and sunsets, saw hundreds of butterflies, berthed and enjoyed restuarants at resorts, and used safe anchorage locations in secluded, protected inlets. It was completely safe, just magnificent and very relaxing. QYC provided excellent advise and briefed us extensively prior to departure, and received us efficiently at the end of the most fantastic cruise we have ever had. We cannot thank QYC enough, not only for their generosity but for their courteous service and attention to detail and safety. We found the "Sorrento" restaurant at Airlie Beach just perfect as a place to have drinks and dinner, to relax and to view the sea and the changing evening sky. We can recommend this holiday experience to anyone without qualification."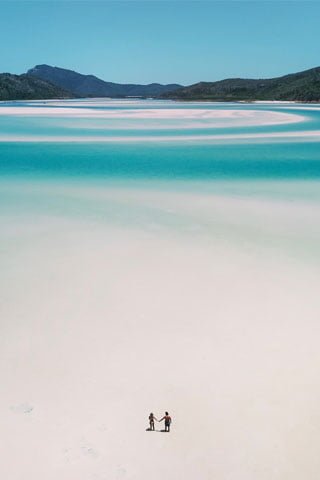 "We chartered a Seawind 1160 "Gypsy Rose" from QYC in July & thoroughly enjoyed the experience. The friendliness and professionalism of QYC is evident from the first email contact until returning the boat at the end of charter. Gypsy Rose was perfect for 3 couples for a week of sailing, snorkeling & sightseeing and the sunsets when on the water are second to none!! I would have no hesitation in recommending both chartering and QYC for anyone looking to spend time in the Whitsundays. A little bit of knowledge on boat handling is required but it's not daunting to anyone who is keen to learn and have some fun at the same time."
"What can I say. Our third trip on this boat and with the help and assistance of a great crew at QYC we are continually amazed at the location and the ease our boat "Dimanche" gets us around. Little things like a valet parking arrangement that QYC arranged for my car meant we could enjoy our holiday and relax from the moment we stepped on board Dimanche. Makes you wonder why people go overseas even with the $ equal to the US?? I got friends from WA to come over and experience this boat and the WhitSundays and they were blown away as well. Had some trouble with the radio this time but QYC arranged a hand held unit and all was good. Biggest problem we had was running out of champagne for the ladies so stock up well when you go!! All the best QYC and keep the good work up, many thanks for another great holiday!!"
"Overall, had a very good experience. QYC staff was exceptionally good and thorough in all communications, help with the trip organisation and briefing before the charter. We were pleasantly surprised with how clean and overall in a good condition the boat was, especially considering that it is a part of the charter fleet for quite a few years. All equipment on the boat worked perfectly, bed linen was clean and of good quality. It is a pity QYC couldn't do much about the weather ( a few windy and rainy days), but, in the end, it did not spoil the great adventure. Already planning to do it again some time in a drier season!"
"We had a fantastic trip. Obviously we were very fortunate with weather. As usual, QYC was fantastic. Ed & Jayson did a great job facilitating an early departure with a thorough and professional briefing. The boat was fantastic and we saw all the wildlife you could hope to see. I hope it's not too long before we can get back there"
"Everything that was promised for this charter was delivered. Service – excellent. Area briefing – excellent. Presentation of the boat was excellent. Would particularly like to mention Kristin who set this all up 6 months earlier with no dramas and all also all QYC staff during our charter! Just keep up your excellent professional and friendly customer service. That is the "secret" what a couple of other charter companies did not seem to have!"
"What a wonderful experience we had. 4 couples aboard the beautiful boat "Dimanche", we were all very comfortable. The staff from Queensland Yacht Charters are awesome, as was the whole holiday. Beautiful part of Australia and the best way to experience it is by bareboating or sailing. Looks like we are coming back, that will be the 4th time for some of us!"
"Planning our honeymoon for Australia, I heard through the Lonely Planet Whitsunday Islands page, we could rent boats. I loved the idea and started looking online and reached QYC. At first we found it very expensive for what we thought to spend, but we ended up renting the Sundecker 36 "SeaAssta". Eventually ended up being the best part of our honeymoon in Australia! The place is spectacular! Thanks to the people of QYC, Kristin and John, for all his goodwill. We would definitely return!"
"We had the best time ever, so thank you to QYC. Everything was done professionally, the staff were so helpful & friendly. I have already recommended you to many friends."
"We recently chartered one of your vessels and would like to say we found your staff and company overall to be very professional. We received all the assistance we needed and would certainly recommend to others. The Whitsundays was a charming place to visit and it was great to have radio contact throughout the trip"
"Thank you QYC and your very friendly staff for the most wonderful and unforgettable holiday we ever had!!!!"
"We had an absolutely fantastic time on our honeymoon and we will most certainly be returning to the Whitsundays to do it again. Thank you again for your warm sales service and for helping us choose the right boat for our purpose (fantastic choice). We will be contacting you first for our next voyage."
"I would like to thank the QYC team for the fantastic service that you provided to us. We had a great holiday, apart from the cool weather (another five degrees of temperature would have been good, but you can't control that!) The yachts facilities were excellent and the provisioning was great. Thank you once again for facilitating our most excellent holiday."
"Thank you for all of your hard work. We couldn't have done it without you. It was a truly memorable trip. A fantasy come to life."
"We would like to express our gratitude for the excellent service and the friendly attention to detail offered to us by all the staff there at QYC. Thanks very much for making this a memorable holiday. We WILL be back"
"On behalf of all our group, I wanted to extend a huge thanks to the team at QYC for handling us with such great care. You run a tight ship at QYC (pun intended) and we were very impressed with the level of service and the maintenance of the boat and overall facilities. We've done several charters in other parts of the world and all of our crew commented that QYC was exceptional! We certainly appreciated the attempt to check in with us each day and report on the weather, give anchoring and wind tips, etc. A once in a lfetime trip for sure, but we hope to get back there someday!"
Finally we are all home in Australia and just want to thank you again for all you did for us in our 3 week Greek Odyssey on the Mythodea I realise that its another weekend coming up and it will be big workload for you all yet again. For all of us, as boat owners and some of us operators we fully understand what it is like to maintain one boat let alone a whole fleet especially with such an intensive charter turnover that you must experience especially included with presentation, International & Greek maritime, survey and legal requirements, it is all very impressive for us our experience was the trip of a lifetime that will never be forgotten and though we had some challenges along the way, the professional way that Dream Yachts resolved the issues including the monetary expenditure aspect of the trip was much appreciated by all of us. The assistance all your staff gave us was also much appreciated. Our Photos and memories have many benefits and one of them will always be on how Dream Yachts looked after us for any other prospective adventurers, when we tell of our experiences to family and friends. We all have high hopes to return again in the future as there is another 1988 islands to be explored let alone the visited ones we want to return to. Thank you again for all your help and assistance and good luck for a prosperous summer.
Thanks for an amazing 10 days on board "Gypsy Rose II"! We're finishing up tomorrow but thought I'd send through a few favourite pics for the monthly photo competition we saw mentioned onboard. Please feel free to use them anywhere if you'd like. I've also got a stack of video and other pics if you're chasing anything in particular. We'll be seeing you and the fabulous Whitsundays again so on!