Whitsunday Yacht Charter
SKIPPER YOUR OWN YACHT IN THE WHITSUNDAYS
No Boat Licence Required
Queensland Yacht Charters is a member of Dream Yacht Charter, a worldwide chain offering the best in yacht charters. Dream Yacht Charter has a reputation of offering the ultimate in destination sailing, and that extends to Queensland Yacht Charters, offering a premium Whitsunday Yacht Charter experience.
THE PREMIER CHOICE FOR YOUR WHITSUNDAY YACHT CHARTER EXPERIENCE.
The Whitsunday Islands are nothing less than a tropical paradise. From pristine Whitehaven Beach to Hamilton Island, the Whitsundays offer breathtaking beauty around every bend. If you're looking for a relaxing holiday on the water, the Whitsundays offer soft, sandy beaches, secluded bays, serene inlets, and incomparable sunsets. Perhaps you're looking for more of an adventure on your next holiday? There is no lack of activities to be enjoyed, both offshore and onshore. Swimming, fishing, snorkeling, bushwalking, exploring the islands, kayaking—there are so many ways to take advantage of the local natural resources during your Whitsunday Yacht Charter holiday.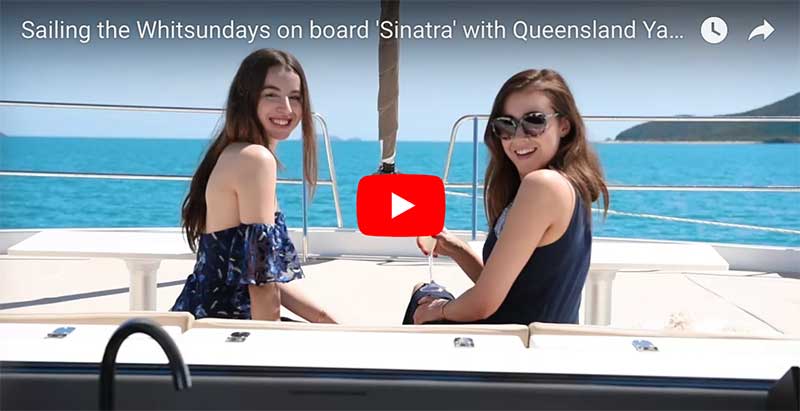 WHY CHOOSE QUEENSLAND YACHT CHARTERS?
Established in 1980, Queensland Yacht Charters has been providing unparalleled bareboat yacht charters in the Whitsundays for over 30 years. We've achieved this reputation by offering unsurpassed quality in everything we do. We pride ourselves on superior boat maintenance and top customer service, helping give our clients the best yachting experience on the market. It's no wonder our satisfied customers come back year after year for another Whitsunday Yacht Charter adventure. We are committed to your safety, comfort, and delight.
"Our group spent 5 days on Lunasea last week and we were so pleased with our decision to have booked our Charter with QYC.. The team at Abel Point were superb from the get go … Louis, Jock and Christine all went above and beyond … and Diver Tony came out went way down in order to clear a prop wrap just outside the harbour wall!!! Fantastic effort from all concerned at QYC and we thank you so very much!"
Craig S.A.
"We have just enjoyed a 7 night Whitsunday cruise on 'Dreamtime Princess' through QYC – a fabulous experience. The company is professional, efficient, informative and great fun to deal with. The vessel was comfortable and in excellent working order. The whole experience was great. Wouldn't hesitate to recommend QYC or charter through them again."
Sally T
"Just back in dark and wet UK having spent an amazing week sailing around the Whitsundays on board Gypsy Rose II. Lovely yacht with great facilities, really comfortable with everything thought of. Great efficient service from QYC including the very detailed and helpful briefing from Scott. Great value, would highly recommend!"
Anna M
WHAT IS A BAREBOAT CHARTER?
No licence is required for a Yacht Charter in the Whitsundays, unlike other locations worldwide, however, experience is essential. On the morning of your Charter we do a comprehensive boat and area briefing, and if you feel that you aren't comfortable captaining your own ship, we are happy to arrange for a sail guide for your Charter. If you wish to do nothing at all on your holiday, and leave the work to us, we can also arrange a Hostess/cook and crew.
DREAM YACHT CHARTER
Queensland Yacht Charters are a member of the global charter company Dream Yacht Charter. With over 39 destinations across the globe, Dream Yacht Charter allows its clients to experience sailing the world. Once you've enjoyed sailing in Australia on a Queensland Yacht Charter holiday, head out to explore some of our other exciting locations. Savour the beauty of places like Thailand, the Caribbean, Malaysia, Mexico, the Bahamas, and Turkey. Choosing a company which is a member of Dream Yacht Charters ensures you'll have the same spectacular experience wherever your journeys take you.