The fabulous Whitsunday Islands are known for incomparable white sand and coral beaches, glittering aquamarine seas, and a magical underwater world of reef gardens home to thousands of unique fish and coral species. One of the highlights of your Whitsunday holiday will be the time you spend on your vessel, with your friends or family surrounded by natural beauty, glimmering water and marine life.
Snorkelling in the Whitsundays
The best way to explore the underwater world of the Whitsundays is by donning snorkel, mask, and fins, and catching a glimpse of some of the resplendent corals and vibrant tropical fish. The water temperatures in the Whitsundays remain a welcoming 25 degrees celcius most of the year.
Your snorkel gear is provided for you at no extra cost and is obtained through Aquadive, the dive shop below our office at Coral Sea Marina Resort. On the first day of your charter your briefer will introduce you to the friendly staff at Aquadive who will fit you out with the correct size. All stinger suits are hired through Aquadive, and these are also handy in winter for extended snorkelling and sun protection. If you plan to begin your charter from Hamilton Island we will need your shoe size for the fins and your height and weight for stinger suits.
These are a few of our favourite snorkelling sites and visibility will be better in different conditions.
Stinger Suits: Marine stingers do not restrict their movement to any particular area and while stinger season is generally between October to May they can be found all year round. Queensland Yacht Charters recommends stinger suits be worn whenever entering the water, particularly during stinger season .
Click on the link for more information on our Whitsunday Marine Life
Manta Ray Bay, Hook Island
On the northern side of Hook Island is one of the best snorkel sites in the Whitsunday Islands, Manta Ray Bay. During winter, as the name suggests, manta rays can be spotted here. All year round you can snorkel with abundant marine life including the maori wrasse, and you can see a range of hard and soft corals. Hook Island is home to a number of great sites for snorkelling on the fringing reef these include Butterfly Bay, Luncheon Bay, The Pinnacles, Saba Bay and the coves around Stonehaven.
Blue Pearl Bay, Hayman Island
Blue Pearl Bay on Hayman Island is also popular, go to the northern part of Blue Pearl Bay to find the best variety and quantity of fish, including colourful parrot fish you can hear as they chomp away on coral.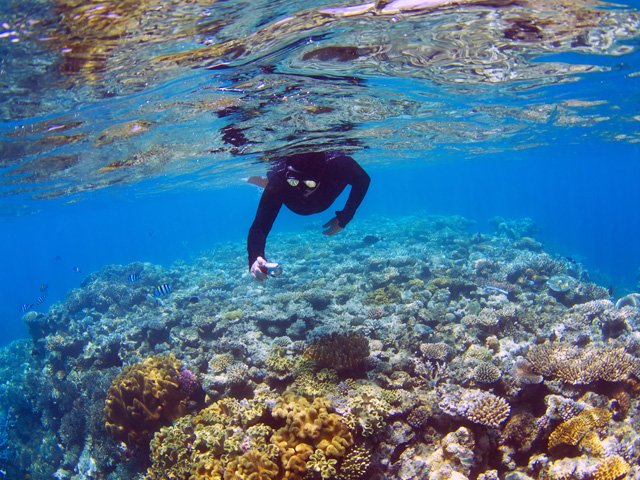 Dumbell Island is a smaller island nestled in between Whitsunday Island and Border Island. Everyone knows that famous fish Nemo, and Dumbell Island is one of the top snorkel sites in the Whitsundays to see anemones and clownfish.
This island is a little slice of paradise that has a lot to explore, Langford Island grows at low tide with an extra sand spit being exposed and a fringing reef accessible right off the beach. You can snorkel straight off the sand, but the best coral scenery and marine life can be found closer to the island part of this mini ecosystem.
Sheltered on all sides by Langford Island, Hayman Island and Hook Island is Black Island – locally known as Bali Hai and a bit of a secret snorkelling spot.
Chance Bay has some good snorkelling on the fringing reefs and also around the small islet to the west side of the anchorage. If you are stopping over for lunch in Turtle Bay you can snorkel in the protected areas close to shore.
Chalkie's Beach with its beautiful white sand is also popular and the snorkelling is at the northern end of the beach, there is a good variety of coral, abundant fish and you might even get to swim along with a turtle while they feed along the reef.
Cateran Bay on the northern side of Border Island has some beautiful fringing reef with plentiful marine life.