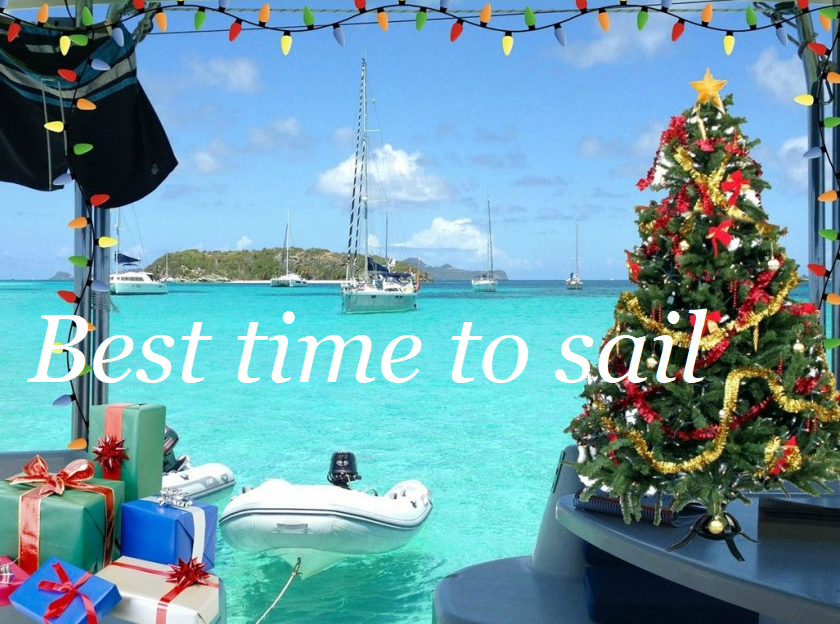 On behalf of all of our team here at Dream Yacht Charter in the Whitsundays, we send you our warmest thoughts and best wishes for a wonderful Holiday Season and a successful, exciting Happy New Year. Stay safe on your travels. We look forward to welcoming you on your bareboat Whitsunday Sailing Holiday, and we are very excited to share our New Bareboat Charter, Skippered Charter and By the Cabin Charter destinations worldwide.

We wish a very heartfelt THANK YOU to our Owners and Charter Clients for supporting us and chartering with us. It's so gratifying for us to have so many of you return year after year with your families and we love receiving your feedback and the fantastic sailing charter videos and photo's you share with us. We are very honoured to be here and to be able to make some of your dreams come true, we couldn't have done it without you.

Thank you, Merry Christmas from all of us.
Sail with Us
For 30 years Queensland Yacht Charters has offered the finest in chartering experience and we continue that tradition as Dream Yacht Charter in the Whitsundays. You can expect the best rates, the most diverse and well-kept fleet, and of course exceptional personal service from a company you know and trust. Plus, we offer worldwide sailing opportunities and flexible options that only Dream Yacht Charter can provide.
Come Sailing with us in the Whitsundays with 74 impressive world heritage Islands to explore. Most of the Islands are uninhabited with dense rainforests which are home to a splendid array of birds, and protected species of flora and fauna. Walk the hiking trails; venture out on pristine white sand beaches and visit the massive stretch of coral reefs teeming with marine life.
What's New With Dream Yacht Charter
In 2020 we will celebrate 20 years of Dream Yacht Charter, with new promotions and some exciting stuff and giveaways planned, we will have opened our New Norway base, and new Yacht Charter bases are proposed, we will have a new product the Aqualodge available first in Martinique and of course the Jeanneau Sunloft 47. In New Caledonia, just a stones throw away from us, there have been some new additions to the Sailing Fleet, in early 2020 New Cal will have 2 x New Bali 4.1, 2 x New Bali 4.3 and the 2 x New MY 37 from Fountaine Pajot. New Caledonia has also added 6 Dream Boat Club ribs for more fun on the water – join the Club.  New Caledonia, a tropical paradise with an eclectic mix of French culture and food and a diverse, colourful and very friendly and welcoming indigenous culture, is the place to go for more choice and just a few hours from Australia it makes an exotic overseas trip that much easier.
Sunloft 47
"Our goal is to bring young people to the experience of boating, so they bring a breath of fresh air to the industry". For this, it is necessary to undo the images of the yachtsman in navy blazer and white cap, owner of his sailboat, and yachting as an expensive sport only for the chosen few. With six cabins below and the fantastic galley in the cockpit, and the very clever salon area that is multifunctional from a daybed for lounging to a dining area on both sides, this is the perfect vessel for Bareboat Charter, Skippered or By the Cabin Charters. The choice is all yours.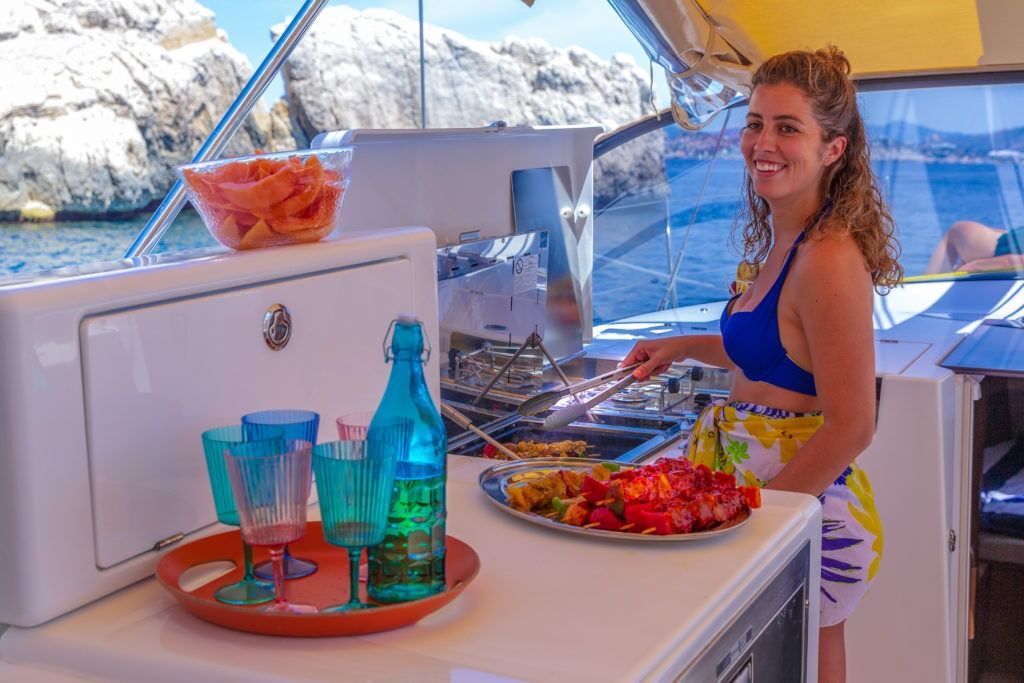 Cooking on the Sunloft 47
The Jeanneau shipyard has designed a sailboat – the Sun Loft 47 – exclusively reserved for Charter companies such as Dream Yacht Charter. It has six double cabins, a record. The hull is reserved for sleeping and life is organized outside, with a spacious galley and salon for lounging, sunbathing and parties. This new "monocat" design is cheaper than catamarans with an ergonomically designed exceptional use of the space. So that the rental prices are lower, all for an equal comfort of a catamaran. "These are the advantages of a multihull without size or price," says an expert.
More Women at Sea
Our company stands for inclusivity and has designed its charters to make sailing available to all regardless of sailing experience. We've launched a movement to encourage more women at sea, which is being led by our partnership with Anna Mourou. We will continue with our More Women at Sea campaign next year with more exciting content from Anna Morou founder of the She Captain movement, as she circumnavigates from 2020. Anna founded a woman's sailing network in Sweden, which now has 3,000 members. See her She Captain Instagram #shecaptain http://www.shecaptain.se/and more Interviews with our amazing Aussie and NZ Women Sailor's and Women Sailor's worldwide – let us know your stories also, we would love to hear from you.
She Captain Members in Greece
More Competitions and the New Bali Catspace Arrives in 2020
We will have more Photo competitions with some great merchandise to give away and more videos of our spectacular destinations; keep an eye on our Facebook and Instagram pages for more info on this. We hope you will share your sailing experiences with us and help us celebrate.
Next year we will continue our wonderful relationship with Bali Catamarans which we have available for Charter in the Whitsundays and in our 50+ locations worldwide. As the Sales agent for Bali Catamarans we also offer the Bali Catamarans for sale in our Charter Ownership Programs and for Private Sales with Dream Yacht Sales and we will introduce the New Bali Catspace into our Whitsunday Charter Fleet in 2020 with her debut at the Sydney International Boat Show 30 July – 3 August 2020.
If you are interested in owning your own boat, privately or in charter, or a second hand boat www.usedyachtsforsale.com – ask us about sales and professional yacht management in the Whitsundays or in our other 50+ locations. You can choose from our unique Ownership Programs all of the best Yacht Manufacturer's and Major Boat Brands.