Experience The Magic Of Underwater Art On A Yacht Charter In The Whitsundays
Exciting news from the Whitsundays this week as the final underwater sculpture was added to the Ngaro Underwater Sculpture Trail. The incredible Anthozoa, a 4m x 5m x 4m reimagining of a single coral polyp, completes the  Whitsundays Reef Recovery and Public Art Project – a funding initiative designed to help the tourism sector recover after Tropical Cyclone Debbie. 
The Whitsundays' Ngaro Underwater Marine Sculpture Trail is a unique tourist attraction and is best experienced at your own pace on board a Whitsunday Yacht Charter.
Photo credit: @riptidecreative
Sail along at your own pace and spend as little or as much time as you want exploring each breathtaking sculpture. 
Keep reading to find out more about why you just have to include this underwater art experience in your yacht charter itinerary and how our reservations team can help you plan your adventure.
Underwater Sculptures & Reef Recovery
Underwater sculptures are not just a unique tourist attraction, they raise awareness about marine conservation and play an important role in reef restoration. The coral sanctuary created around two of the sculptures (Manta Ray and Migration of the Mantas) is thriving with baby coral survival rates over 90%.
A first for the Great Barrier Reef, underwater art is a growing trend across the world. The Caribbean is one of the hotspots for underwater sculpture parks and is home to the world's largest underwater sculpture – Ocean Atlas, a 60-ton, 18-foot-high Bahamian girl holding up the ocean. You can enjoy exploring the Grenada Underwater Sculpture Park from a charter at our Grenada Base.
The Whitsundays is one of Australia's most popular tourist destinations, and this series of underwater sculptures, all created by Australian artists, is just one more reason for local and international visitors to come and spend some time in our beautiful region.
Underwater Artwork in the Whitsundays
The five underwater sculptures already installed at various key locations in the Great Barrier Reef Marine Park  include :
Manta Ray (Hook Island)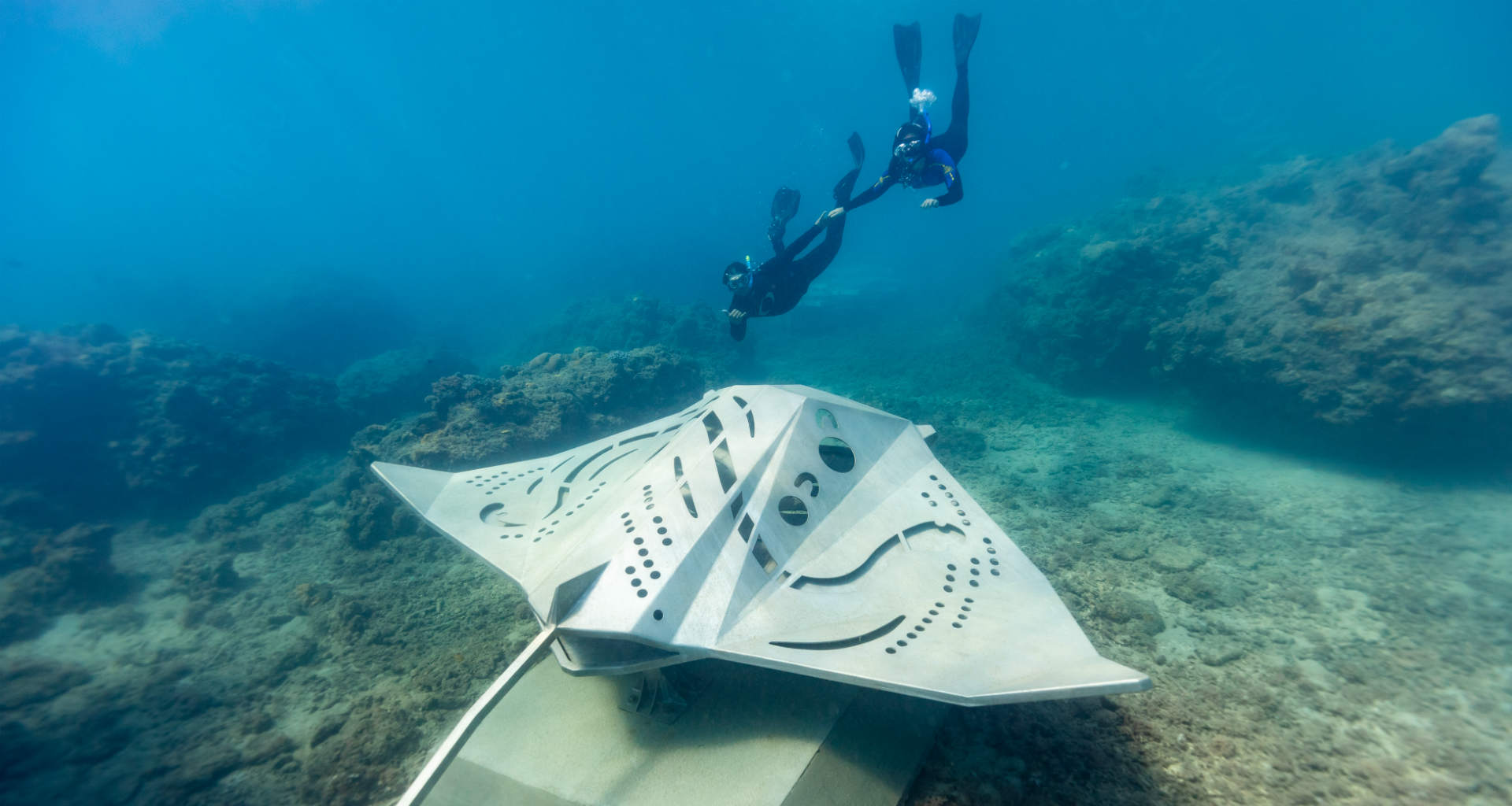 Photo credit: @riptidecreative
Artist: Adriaan VANDERLUGT
Aluminium
3.8m x 3.8m x 1.2m
Artist's Description: The indigenous name for Manta Ray is Manguna. Common name "Manta" is Portuguese and Spanish for mantle (cloak or blanket). Adriaan collaborated with traditional owner Arthur Gabey to fashion a surface design with a traditional Ngaro theme of a dreamtime story. The design includes 74 different sized circles which represent the 74 islands in the Whitsundays. There are serpents on the Manta Rays wings and its "U" shapes are the Aboriginal symbol for people. Mantas are listed as vulnerable by the International Union for Conservation of Nature. Areas where Mantas congregate are popular with SCUBA diving and snorkelling tourists.
Migration of the Mantas (Hook Island)
Photo credit: @riptidecreative
Artist: Brian ROBINSON
Concrete and stainless steel
2m x 1.7m x 0.3m (2)
Artist's Description: Mantas are found in warm temperate, subtropical andtropical waters. They are pelagic (surface dwelling) species. Mantas have triangular pectoral fins, horn-shaped cephalic fins and a large, forward-facing mouth. Mantas may visit cleaning stations for the removal of parasites. Like whales, they breach for unknown reasons. Brian collaborated with traditional owner Nicky Bidu Prior to emboss a traditional pattern. If you're lucky enough to spot a Manta on the Reef and snap a photo of its underbelly, email your picture to Eye on the Reef and\or Project Manta to contribute to their ongoing research and monitoring program.
Turtle Dream (Langford Island)
Photo credit: @riptidecreative
Artist: Col HENRY
Stainless steel
6.5m x 6m x 2m
Artist's Description: Turtle Dream is a Hawksbill turtle, Eretmochelys imbricata, a critically endangered species. Hawksbill turtles are easily distinguished from other sea turtles by their sharp curving beak, and the saw-like appearance of its shell margins. The Ngaro indigenous name for Hawksbill turtle is Maeyila. The sculpture is created from 800 individual pieces that were hand shaped, welded and polished by the artist and his son Colin. The Artist feels this work is a pinnacle of his long public art career, symbolising the passion that many people have for the reef, marine species, oceans and planet.
Maori Wrasse (Hayman Island) 
Photo credit: @riptidecreative
Artist: Adriaan VANDERLUGT
Aluminium
2.7m x 3.85m x 0.6m
Artist's Description: Maori wrasse or Humphead Maori Wrasse, Cheilinus undulatus is the largest member of the family Labridae, reaching up to 2 metres (six feet long) in the male species, and up to three feet in females. Although widespread on coral reefs in the Indo-west-central Pacific, Humphead Maori Wrasse are uncommon throughout their range. The species is very susceptible to fishing pressure, and as a result, it is CITES-listed and is considered Endangered by the IUCN. This species is fully protected (no fishing) in the Great Barrier Reef Marine Park. It is very friendly and approachable to snorkellors and SCUBA divers at popular tourism sites and fish feeding locations in the Whitsundays.
Bywa (Horseshoe Bay)
Artist: Brian ROBINSON
Concrete and stainless steel
1.3m x 1.3 x 3.4m
Artist's Description: Bywa is a traditional language word from the dialect of Kala Lagaw Ya from the Western Islands in Torres Strait. When translated in English it means 'waterspout'. According to mythology waterspouts are the vessels that carry marine animals up into the heavens for the spirits and ancestors to feed on. Waterspouts are a rare natural phenomenon Robinson's Bwya is rich with marine animals common to Bowen waters – Turtle, Coral trout, Mangrove jack, Trevally, Parrotfish, Surgeonfish, Butterflyfish, Sergeant major, Tropical rock lobster, Stingray, Epaulette shark and Wobbegong shark.
Read more about these locations in our  favourite anchorages section or take note of the GPS coordinates for each sculpture.
How Can I See The Marine Sculpture Trail?
The good news is that the Whitsunday underwater sculptures are accessible to both divers and snorkelers. Migration of the Mantas, Turtle Dream and Maori Wrasse all sit at 10 metres while  Manta Ray sits at a depth of only 5 metres. Bywa is located just off the beach at the town of Bowen. 
Be part of something unique and make sure you include an underwater art tour in your yacht charter holiday. All our Whitsunday charter yachts are equipped with snorkel gear so you can easily experience the magic of underwater art on a Yacht Charter in the Whitsundays. Our reservations team can help you plan your itinerary to include all the sculptures, so don't hesitate to get in touch with us.
If you still need convincing, check out this footage of the trail